On one of the purest parts of the earth, and in the land of emigration, the city of the Messenger of God, may God's prayers and peace be upon him, we are continuing a journey of success that spanned for more than 45 years! A process that began and whose foundations were laid since antiquity with the goodness of the old Al Mouwasat hospital, and continued for decades, until we chose the beginning of a new era for you
To make the Mouwasat Hospital in the Knowledge Economic City in Madinah a distinguished medical edifice; by equipping it with the latest medical equipment and devices, and attracting the leading competencies from different countries of the world; To provide the best medical services to patients, both citizens and residents. 
The first digital hospital in Madinah, and the seventh hospital of the Mouwasat Medical Services Company in the Kingdom, was built on a total area of 55,000 square meters, with a height of five floors, and parking spaces for 500 cars, at a total cost of more than 500 million Saudi riyals.

Clinics
160

Outpatient duty Hours
16

Number of beds
340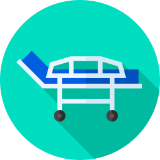 Critical care beds
70

Emergency duty hours
24