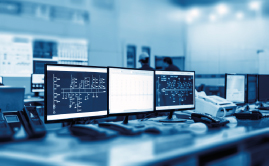 Mouwasat Control & Command Center of Intensive Care Units (Tele-ICU) using Tele-Medicine and Artificial Intelligence
Keeping Up with the Development of The Projects of Artificial Intelligence and Telemedicine at Mouwasat Medical Services Company.
In cooperation with Philips International Company, the first smart intensive care center was launched in the Kingdom to support intensive care units at Mouwasat hospitals (TELE-ICU), accredited by the US Food and Drug Administration (FDA).
Through a control room of an initial operating capacity of 350 beds out of 1500 beds, the new center will be gradually operated in the future. This Center is managed by a highly qualified medical team with scientific and practical experience in treating and following up critical cases.
The team of the control center, which consists of medical and nursing staff, cares for patients of intensive care unit in Mouwasat hospitals around the clock. Using artificial intelligence is adopted to follow the therapy plan developed by the therapeutic medical team, laboratory analyzes, x-ray results, vital signs, and others.
It is worth to be mentioned that all the intensive care units in all Mouwasat hospitals still have a valuable asset of consultants, specialists and nursing to provide direct service for patients and deal with the outputs of artificial intelligence received from the control center.
This aims to improve the quality of medical performance, reduce the period of patients stay in intensive care, reduce the potential medical errors and reduce the treatment cost.
The program consists mainly of audiovisual technology for communication between the control center and the intensive care units in the hospitals through an advanced system equipped with high-resolution cameras installed in the intensive care rooms of patients. In conjunction with an artificial intelligence program where all patient data is extrapolated to give priority to the most severe cases.
For this program, the latest and the most applicable medical protocols internationally have been prepared to ensure standardization of therapy plans and performance standards for all Mouwasat hospitals. It aims to unify medical care for patients and provide the best and latest therapeutic methods used globally. keeping up with the Kingdom's Vision 2030 and the first dimension of the eight dimensions of the National Transformation Program to ensure the safety of the citizen and resident.